Today is my stop on the blog tour for How The Duke Was Won, the début novel by Lenora Bell. Named as one of the Best Romances of the Summer by Publishers Weekly, it has five-star reviews and is described as "a début that reads like an instant classic" (Eloisa James, New York Times bestselling author).
Title:Â How the Duke Was Won
Author: Lenora Bell
Publication Date: 26th May 2016
Genre: Historical Romance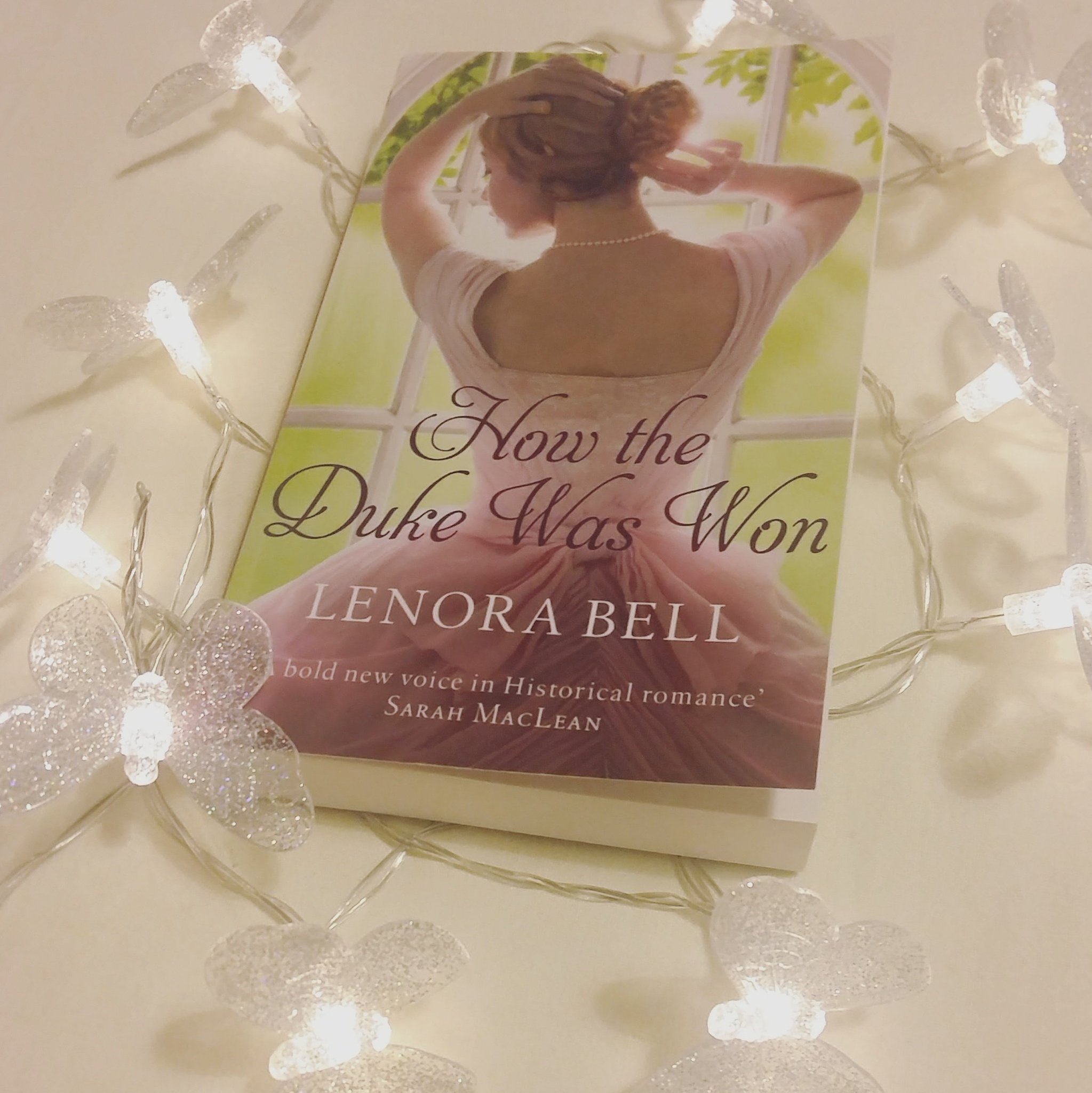 The pleasure of your company is requested at Warbury Park. Four lovely ladies will arrive… but only one can become a duchess.
James, the scandalously uncivilized Duke of Harland, requires a bride with a spotless reputation for a strictly business arrangement. Lust is prohibited and love is out of the question. Four ladies. Three days. What could go wrong?
Charlene Beckett, the unacknowledged daughter of an earl and a courtesan, has just been offered a life-altering fortune to pose as her half-sister, Lady Dorothea, and win the duke's proposal. All she must do is pretend to be the perfect English rose, breathe and curtsy in impossibly tight gowns – and keep the duke far, far from her heart.
When secrets are revealed and passion overwhelms, James must decide if the last lady he should want is really everything he needs. And Charlene must decide if the promise of a new life is worth risking everything… including her heart.
Note: I was sent this book by Little, Brown Book Group UK in return for an honest review.
When I first received this book to review, I must admit I was a little apprehensive. I've always said that the two genres I don't like to read are Historical and romance – so the fact that this book was a Historical romance made me a little unsure what I would think. Oh, was I surprised.
It took a few chapters for me to really get into the story, but I think it's primarily due to the time setting – the early 1800s – so the dialogue, descriptions and the royal titles (Duke, Duchess, Lord, etc) all took a bit of getting used to. However, when the story really started, I found myself turning the pages so quickly because I wanted to find out what happened next! The story follows Charlene, a 'common' girl from Covent Garden (known at the time as a place full of brothels), who must pretend to be her almost-identical half-sister and daughter of an Earl, Lady Dorothea who is currently travelling back from Italy. She is invited to the house of a Duke with three other women and it's almost a competition to see which Lady the Duke will choose to be his Duchess. Charlene's time spent there is full of accidental hiccups, including almost (accidentally) exposing herself to the Duke, the other Ladies and their mothers at a dinner party. It's moments like this that add humour to the story.
An element that I really liked – and if you read my review of The Nemesis Charm by Daniel Ingram-Brown, you've probably noticed that I like this a lot – was the switching perspectives throughout the narrative. Looking back, this was probably the best way to write the story: because James, the Duke, doesn't know that Lady Dorothea is actually Charlene in disguise, when the story is told from his perspective we see his horror at the things that Charlene says and the way that she acts. When the story is told from Charlene's perspective, we get these events in more detail and her thought processes behind them, rather than an outsider perspective like the Duke's. An element like this, for me, adds so much depth to the narrative; to be able to see the same events through two people's eyes makes it so much more interesting.
Another thing that made this book a more positive experience for me were the advanced themes that ran throughout. I think one reason that I usually dislike romance novels is that they can be superficial, only describing the blissful and sickeningly perfect romantic adventures between two people. In this book however, there were themes covered including but not limited to feminism, classism and racism. I saw the protagonist, Charlene, as a Victorian version of a modern-day feminist, which was incredibly refreshing to read in an 1800s setting. She had very strong and very vocal opinions about the differences in the way men and women were treated, and also had very strong ambitions to run a bordinghouse for young girls who needed shelter and protection:
"Charlene didn't need a man to rescue her. She didn't need a man at all. Her new bordinghouse would be female-only – except for [Jujitsu instructor and Charlene's friend/guard] Kyuzo. He would be the defense instructor and teach the girls to believe in their own strength."
The theme of racism came about when a little girl called Flor experiences prejudice from everyone around her because of her darker skin colour. The way she spoke about her experiences with racism made me want to give her a huge hug:
"I never thought about it before I came to England. Here everyone has skin like milk" … "Miss Pratt makes me wear an itchy b-bonnet all day long … and she rubs lemon juice on my nose and cheeks and it stings, but she says it will improve my complexion."
The final theme that I picked up on, classism, runs throughout the whole narrative. It is clearly spoken about my Charlene who, as a common girl, gets to experience the unknown genteel world of Lords and Dukes, royalty and wealth – and she despises it. She likes that she gets to sleep in a proper bed and eat real food (which is rationed because her figure is too large), but I think while she is there she misses her home in Covent Garden and hates the way the other Ladies obnoxiously and pompously act.
Overall, I was genuinely surprised at how much I enjoyed reading this book. In fact, I read the whole thing in less than a day! I started it in the afternoon and finished it at 2am. I couldn't put it down – more than 100 pages away from the end I had to know how it ended, because all of a sudden the events happen too quickly until you've turned the final page. I liked the ending too (no spoilers, don't worry!) because it wasn't disgustingly cheesy like a lot of romance books are!
I think one thing I've learned from reading this is that I need to be less picky about the books I read because maybe, just maybe, I'll read a book like this that takes me out of my comfort zone and be completely surprised by how much I enjoyed it.
You can view the book on Goodreads and buy it on Amazon when it's released in two days time, on May 26th!
About the Author
Lenora Bell grew up in a tiny town in Alaska with no streetlights, no movie theatre, but a very well-endowed library. A graduate of Portland State University's MFA in Creative Writing program, she has lived and taught English on five continents. Lenora currently shares a cabin in Switzerland with her husband and two naughty tiger-striped kitties.